With a 2010 Juno nomination, a 2010 Western Canadian Music Award nomination and appearances at coast-to-coast Canadian folk festivals in 2010 and 2011, Annie Lou has become a familiar sight on the Canadian roots music stage.


Annie Lou's stringband instrumentation translates into foot-stomping fiddle and banjo, driving guitar and upright bass, and great big vocals. Built around Genest's original songwriting, Annie Lou is firmly rooted in both the past and the present, with a strong vein of Canadiana running through that marries it all together. New and original, yet old and familiar, Annie Lou is Canadian roots music at its finest. 
See the NEWS & SHOWS page for upcoming performances. 
Touring with Annie Lou in 2012:
Anne Louise Genest – guitar, vocals, banjo
Kim Barlow – vocals, banjo
Andrew Collins – fiddle, mandolin
Max Heineman – upright bass, vocals

"If the Coon Creek Girls had entertained the army building the Alaska Highway in 1943, and settled in the North, this is the band their grandchildren might have formed. This is not a band - this is a revelation!"  Vancouver Folk Music Festival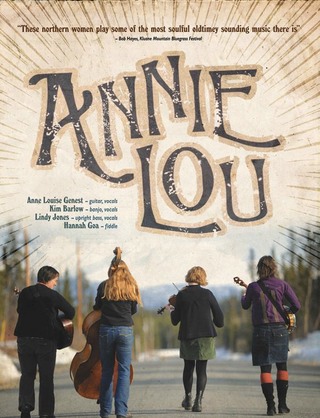 "It can be a challenge to write new music that feels like it's somehow in step with the older repertoire. Anne Louise and Kim have done a fine job of stepping up to that challenge. The original songs on this disc stand tall and proud beside the old-timers and the playing and singing is first rate." CHRIS COOLE, Foggy Hogtown Boys, and old time banjo player extraordinaire
"Annie Lou were the sparkling surprise of the 2007 Kluane Mountain Bluegrass festival. These northern women play some of the most soulful oldtimey sounding music there is, with brilliant instrumentation and wonderful vocals." BOB HAYES, Kluane Mountain Bluegrass Festival 
Visit the Annie Lou website and Annie Lou on Facebook.